Of the over 1 million fires reported in the U.S. in 2014, nearly half were house fires, causing 2,860 deaths, 13,425 injuries and nearly $10 billion in property damage. Below is a list of the top 10 triggers and sources of house fires, along with various safety precautions you can take to help prevent them – and potentially save lives.
The Leading Culprits of House Fires and Prevention
1. Candles – As appealing and innocent as candles may seem, thousands of fires are started in homes each year by these open flames. Always keep candles at a reasonable distance from anything that can burn and blow them out before going to bed or leaving the room.
2. Home appliances – Heating, fans and air conditioning units, clothes dryers and washing machines, as well as kitchen cookers, are all potential fire risks. Always use these appliances according to manufacturer instructions, unplug them when not in use, and keep cords as short as possible to avoid tripping and knocking them over.
3. Tobacco products – Despite requirements for cigarettes to be 'fire-safe', smoking materials still account for a significant proportion of house fires. The items most commonly ignited include upholstered furniture, mattresses, bedding, and rubbish. If you're a smoker always smoke outside and ensure your discarded cigarette butts and ashes are put out before disposing of them.
4. Household products – Mattresses, bedding and upholstered furniture are often the first items to be ignited in home fires. Keep heat sources well clear of these items, ensure that lighters and matches are stored out of reach of children, and turn off portable heaters when you're sleeping or not present.
5. Gases and chemicals – Many fires are started as a result of chemical reactions, spontaneous combustion, and mishandling of flammable gases and liquids. Garages are most commonly the area of origin for these types of fires. Oily rags and flammable products should be properly stored in well-covered metallic containers, any spills should be thoroughly cleaned up, and cooking fuels should never be left unattended.
6. Seasonal lights and decorations – Did you know that fire-related deaths and injuries are far more common during the holiday season? Whilst Christmas tree lights and decorations are fun and festive celebrations, don't overlook fire safety when installing them just because they're temporary.
7. Lightning – In the event of a storm, keep away from doors and windows, and avoid contact with water and electricity. This could give you the excuse you've been looking for to postpone washing up and laundry duties, or checking your emails.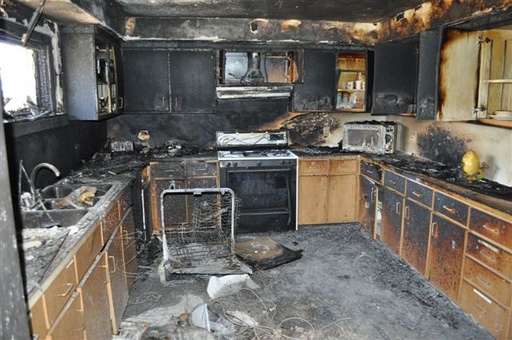 8. Electronics – Malfunctioning electrical components are dangerous. Think wiring, light bulbs and fixtures, power supplies, cords, and plugs. Report any outlet sparks, odors coming from burning appliances, tripping circuit breakers or blowing fuses to qualified electricians.
9. Fireworks – Fireworks are the riskiest consumer product, causing tens of millions of dollars' worth of direct property damage every year. The safest way to enjoy these explosives is at a distance at a public display, leaving them to trained professionals and avoiding private use.
10. Arson and juvenile fire play – Worryingly, nearly two-thirds of intentional structure fires occur in occupied residential properties. As well as reporting suspicious activity, you can actively take steps to prevent the damaging effects of arson by cleaning up anything that could be easily ignited, including overgrown vegetation on your property. Never leave flammable products unattended or within reach of children and make it clear that these items are strictly for adult use only.
What to Do in the Event of a House Fire
No matter how major or minor fire damage is, it's vital to immediately seek the help of professional restoration services in order to mitigate the damage and cost of repairs. Our experienced team of technicians at Trademark Restoration Services is on call 24/7 to restore fire damage in homes in across the Las Vegas Valley. Our valued client base trusts us to act quickly and proficiently to make good the damage done. Let us do the same for you, by calling (702) 749-9999.