Biohazard Cleanup
We Remove Any Biohazardous Material from Your Home
The professionals at Trademark Restoration Services take care of more than fire and water damage. Our certified personnel are trained to handle biohazards. While not at all a pleasant topic of conversation, it is something that does happen and needs to be cleaned up. A biohazard might be the remains of a pet or loved one who has perished or chemical spills in the home.
Contact us Right Away for a Free Estimate!
For an emergency call (702) 749-9999
We're available 24/7 and will respond within 1-hour!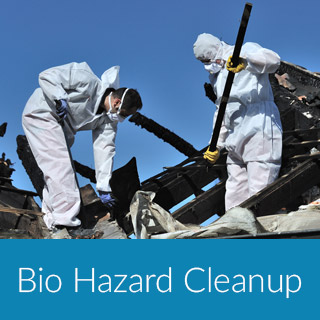 If someone is injured or ill, bodily fluids like vomit, urine, feces or blood contaminate floors or furniture. These are all considered biohazards.
Once a home is cleaned, it is inspected to ensure that the property is safe to be occupied again. Homeowners are assured that no toxic contaminants or biohazards are left behind.
It is also helpful to know that most homeowner's insurance policies cover biohazard cleanup in addition to home repair.
If you need to remove hazardous materials from your home, call Trademark Restoration Services.